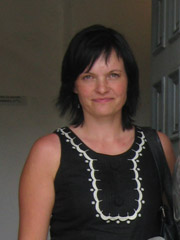 OÜ KibeKäsi ("DabHand") has got its name due to owner's name and certain characteristics.
My name is Kati Kibena and I've acquired professioon of sewing industry technician-technologist at University of Applied Sciences in Tallinn. I've also acquired fitter's skills at Tallinn 4th Trade school, later on amended myself in University of Applided Sciences in Tallinn and got higher education in the field of clothing organisation.
I'm an experienced specialist in fitting, individual sewing and also mass production.
I've been engaged in two different enterprises as a master-technologist. A sewing room located in Tartu, Võru street 55, II floor is open starting from September.
You are welcome!